Tether (USDT)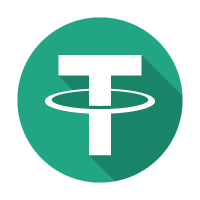 The U.S Dollar Backed Digital Currency
---
So, what is Tether (USDT)?
Tether is a unique digital currency that was created to provide stability in the wave of volatile digital assets.
By this, we mean that each tether token is supposedly backed by the U.S. dollar (USD). Investors of the digital currency can redeem the token for USDs through the Tether platform.
However, a wide portion of the digital currency community doubts this claim, including many who claim that Tether's lack of transparency makes it a danger to new traders in the digital currency space.
Following up on these concerns, the U.S. Commodities Futures Trading Commission (CFTC) issued subpoenas for Tether's financial records on December 6, 2017.
Let's take a look at Tether's history…
Tether was developed from the Bitcoin blockchain through something called the Omni Layer protocol. The goal, outside of providing a stable currency, is to allow traders to interact with other digital assets in the digital currency space. Because Tether is supposedly stable, individuals can use it on exchanges as a store of value, protecting profits in volatile markets. They can also move tether tokens into other digital currencies without resorting to a wire transfer.
Tether's backing company is a bit of a mystery…
Recently, a spokesperson for Bitfinex and Tether stated that the CEO of both firms is named Jan Ludovicus van der Velde. The digital token was originally introduced to the market under the name Realcoin, but it was later renamed Tether in 2014.
On the Tether company website, it states that the Tether company is currently based in Hong Kong. The website also says Tether has additional offices in Switzerland, but it doesn't disclose a location or mailing address.
It's worth noting that concerns have been raised about Tether multiple times by high-ranking members of the digital currency community. These concerns are often related to Tether's transparency and the lack of documentation to back its claim that each of its digital currency units is actually backed by the USD.
In response to these doubts, Tether published a memorandum claiming that each of its units was backed by the USD. After reviewing this document, independent attorney Lewis Cohen said the document does not, in fact, guarantee that each tether token is backed by the USD.
If you're interested in learning more about Tether, you can access the company website here.
And you can access the Tether white paper here.
How to Buy Tether
Tether is only available on a few exchanges, including Kraken and EXMO.
The Token Authority, Copyright © 2019, Angel Publishing LLC. All rights reserved. 111 Market Place #720 Baltimore, MD 21202. For customer service, call (877) 303-4529. The content of this site may not be redistributed without the express written consent of Angel Publishing. Individual editorials, articles and essays appearing on this site may be republished, but only with full attribution of both the author and The Token Authority as well as a link to www.thetokenauthority.com.
Your privacy is important to us. We will never rent or sell your e-mail or personal information. Please read our Privacy Policy.
No statement or expression of opinion, or any other matter herein, directly or indirectly, is an offer or the solicitation of an offer to buy or sell the securities or financial instruments mentioned. While we believe the sources of information to be reliable, we in no way represent or guarantee the accuracy of the statements made herein. The Token Authority does not provide individual investment counseling, act as an investment advisor, or individually advocate the purchase or sale of any security or investment.
Subscribers should not view this publication as offering personalized legal or investment counseling. Investments recommended in this publication should be made only after consulting with your investment advisor and only after reviewing the prospectus or financial statements of the company in question. All Investments in Stocks, Options, Bonds, ETFs and Futures may carry a significant risk of loss.