Part One: Which Exchange is Right For You?
Written by Alexandra Perry
Posted May 6, 2018 at 8:00PM
---
Today we're going to talk about one of the most valuable tools a cryptocurrency trader has: the exchange.
In the last couple years, the digital currency market has been flooded with new exchanges. These exchanges come from all over the globe, from the United States to China. And the sudden volume has created quite a quandary for new investors.
On one hand, an influx of exchanges is good. It gives investors more options and by proxy raises the bar for all exchanges. On the other hand, more exchanges also means it's harder to find the perfect fit for your trading needs.
And that is why we wrote this article.
Our team dove deep into the exchange world to unpack some of the top-rated digital currency exchanges on the market. In our analysis, we looked at multiple factors including reputation, security, deposit options, and areas of operation.
Through this data, you can decide what is best for you. It doesn't matter if you're an aspiring crypto master or a novice just wetting their feet... we've got your back.
Let's get started.
Coinbase
The first exchange on our list is Coinbase, which opened its doors to investors in 2012 and has been a disruptive power in the digital currency world ever since.
Coinbase is what many would call "a hybrid wallet," meaning you can both buy and store digital currency on the platform. At the time this article was written, Coinbase only offers four digital tokens: Bitcoin, Bitcoin Cash, Litecoin, and Ethereum.
The Coinbase team just announced that it is building out support for ERC20 tokens, which means new tokens could be coming soon, and they will likely be built on the Ethereum network. Currently, users of the Coinbase platform can buy, sell, and send currency all within the platform. Below, we have answers to some of the biggest questions.
Funding Your Account: You can add funds to your Coinbase account through your bank account, PayPal, or a credit card.
Security: Coinbase users can use two-factor authentication for additional layers of security.
Fees: Coinbase does have fees for purchases, sells, and deposits. These vary based on your location. You can view the full list here.
Areas of Operation: To check the operating status of Coinbase in your country, click here.
Challenge Level: Beginner. In the world of digital currency, Coinbase is one of the easiest exchanges to master. The Token Authority research team ranks it as a beginner-level exchange.
Conclusion: Coinbase is a good exchange for beginner to expert digital currency traders. Coinbase has a long market history where it has demonstrated innovative thinking. Just recently, Coinbase acquired Earn.com, which focuses on paid email. While it is uncertain where this acquisition will go, it may pay off for Coinbase users in the future. Coinbase also insures investor funds up to $250,000 in the USD wallet, making it a safe option for the retail investor.
Gemini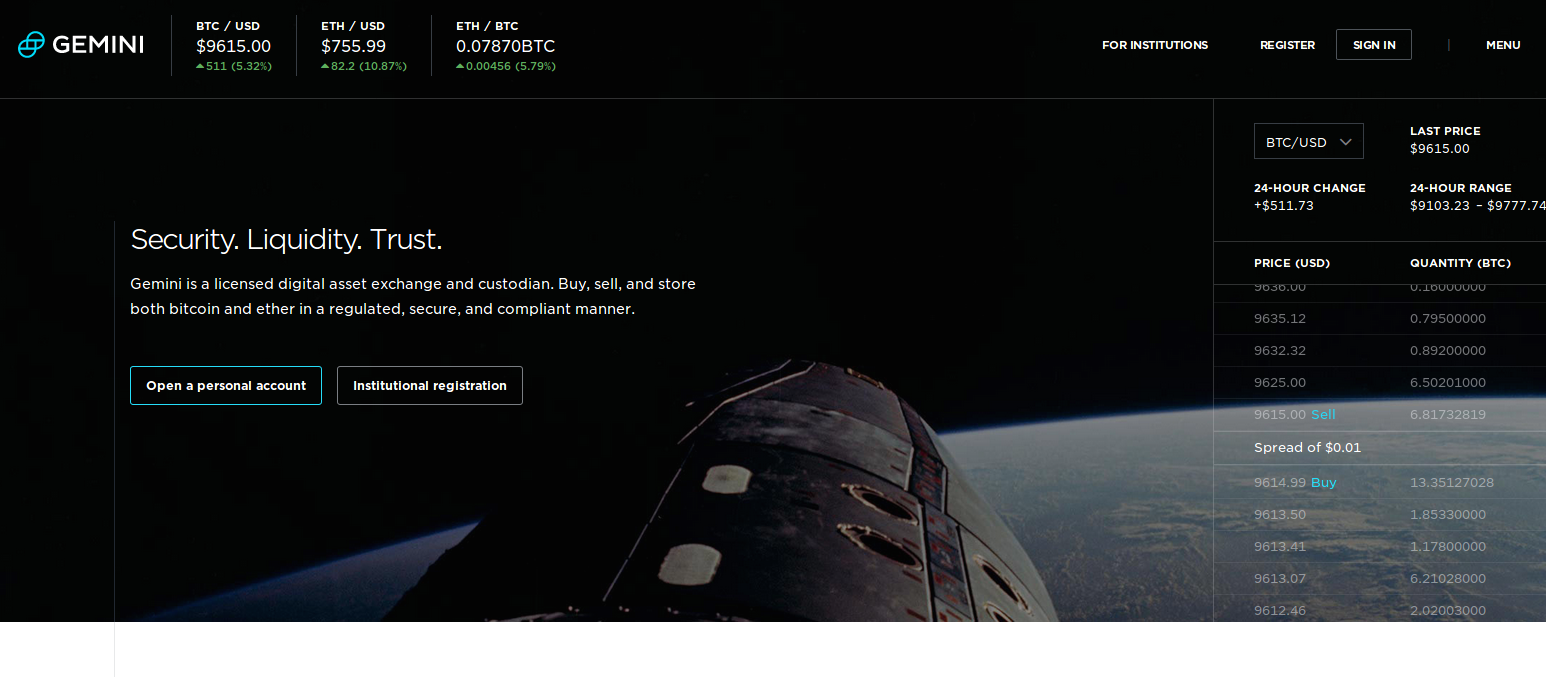 Gemini was founded in 2015 by the Winklevoss twins, who have been heavily involved with the digital currency space and the development of a Bitcoin ETF. The Gemini exchange is a New York State limited liability trust rather than a BitLicense, which gives the platform the ability to work with not just individuals but also institutions. In the future, this could allow Gemini to profit by providing a bridge between the cryptocurrency market and the traditional financial world. Investors can both buy and sell on the Gemini platform. The tokens available for purchase include Bitcoin and Ether.
Funding Your Account: You can add funds to your Gemini account through a wire transfer or a bank transfer.
Security: Gemini users can use two-factor authentication to secure their accounts.
Fees: Fees range from 0.00% to 0.25%, depending on your 30-day trading volume. Higher trading volume means lower fees.
Country Support: Gemini operates in most of America, Canada, Singapore, Hong Kong, South Korea, the United Kingdom, and Puerto Rico. Currently, Gemini does not operate in Arizona, but the area is coming soon.
Challenge Level: Beginner. The Token Authority team ranks Gemini a beginner-level exchange.
Conclusion: Gemini is a fairly easy exchange for beginners to master and offers security suitable for a range of investors. In the future, the exchange could offer investors access to more traditional financial markets.
Bitstamp
Bitstamp is a Bitcoin exchange based in Luxembourg. Like Coinbase, Bitstamp has a fairly long market history. It was launched in 2011 and served as an alternative to the wildly popular (at the time) Mt. Gox exchange. The goal of this exchange is to allow people from all over the globe to trade Bitcoin among their peers.
The digital currency exchange only allows trading between USD and the Bitcoin cryptocurrency. That said, the platform does allow for USD, EUR, Bitcoin, Litecoin, Ripple, or Bitcoin Cash deposits or withdrawals.
Fund Transfer Options: While you can trade using USD on the exchange, Bitstamp only accepts fiat money deposits for free through the European Union's Single Euro Payments Area. Deposits via credit cards or wires incur a fee.
Security: Two-factor authentication is available on the Bitstamp exchange.
Fees: Bitstamp's fees can be a bit confusing and change based on your trading volume. Unless you're trading in high volume, you could pay up to 0.25% per buy.
Country Support: Bitstamp primarily serves European countries but recently opened its doors to America through credit card deposits.
Challenge Level: Intermediate. On one hand, Bitstamp offers investors some great new ways to play the market, including stop orders and order books. However, this does add a layer of complication that some beginners may not want to deal with.
Conclusion: Bitstamp is a great exchange for traders who want to trade in a high volume and use order books. If you only want to own a few crypto coins, this may not be the best exchange for you.
Kraken
Kraken is based in the United States and operates in the European Union, Japan, and the United States. The digital currency exchange was launched in September 2013. To date, Kraken is the "the world's largest bitcoin exchange in euro volume and liquidity."
In its early days, Kraken was wildly successful. Founder Jesse Powell learned from the mistakes made by Mt. Gox and launched Kraken to resolve many of Mt. Gox's issues. In 2013, Kraken helped create the Committee for the Establishment of the Digital Assets Transfer Authority (DATA). In 2017, Kraken suffered some setbacks, including a series of debilitating DDoS attacks, which left investors fleeing the market in droves. In 2018, the exchange closed its doors for 48 hours to conduct updates. This has been the longest operation in service and hopefully marks a brighter future for Kraken in 2018.
Fund Transfer Options: In the United States, you can deposit funds into Kraken via United States domestic wire transfers and SWIFT international wire transfers. For other countries and regions, you can see deposit information here.
Security: Two-factor authentication can be used to secure your Kraken account.
Fees: Like many exchanges, Kraken's trading fees vary based on the user's trading volume. You can learn more about potential fees here.
Country Support: Kraken operates in areas all over the world, including the United States,
Challenge Level: Advanced.
Conclusion: While Kraken does offer new traders a wide variety of coins, it may not be the best for beginners. That said, if you're willing to brave a more challenging platform, Kraken does give crypto traders access to a wide range of coins with flexible fees.
At this point, you may have noticed a theme in the exchanges we mentioned in this article: They all, to some degree, accept fiat deposits. In next week's Monday mailing, we're going to move into the trickier platforms. While these platforms don't accept fiat deposits, they do offer digital currency traders a wide range of altcoins and order types. So stay tuned.
Sincerely,
Alexandra Perry
P.S. We mentioned in our Wednesday mailing that we would be covering Ripple and Stellar in Monday's piece. We ended up doing exchanges because we received reader questions, and we are attuned to our readers. That said, we already have a great article that breaks down Stellar and Ripple on our sister site, Wealth Daily. You can find it here.